eCom Turbo Theme

Review – Franklin Hatchett Shopify Theme

Having uncovered the sheer potential of e-commerce, you' re enthralled by all you can accomplish should you start your online store. Presumably, you've watched one of the thousands of other drop shipping, Internet marketing, and "make money online" videos and believe now is the right time for you to dive into this immense realm of opportunity and create a viable business model for yourself.

But, is creating a website enough to succeed on the Internet?

No!

Running a successful online store is much more than having the right products to sell and being smart enough to market them to the right people.

Even though there is no denying the fact that these are vital components to succeeding online, there are two other significant factors that "actually" influence how successful your business and your brand will be.
The aesthetics of your site.
The platform you choose to run your business.
The aesthetics of your site is important because it helps your potential customers to distinguish your brand well from thousands of others already online. Just as people make their buying decision based on the appearance of a physical store, the same is true when they make a purchasing decision on the Web.
Through adding personalization, you are aiming to make your customers aware of your brand and to get them excited about what your online store can offer them as soon as they find themselves on one of your product pages.
Now that you know why beautiful modern web design is essential, you will want to decide on the platform where you want to run your web business.
Again, nowadays, the Internet is flooded with e-commerce platforms, including WordPress WooCommerce, Magento, open commerce, Shopify, etc. each having their unique features, aside from the core functionality that is – e-commerce.
Hence, the question remains: which platform should you entrust your business to?
My short and sweet answer is – Shopify!
What is Shopify?
Shopify is a sophisticated SASS application that enables people interested in building a fully-fledged, 100% secure, multilingual, multi-currency online store without having to write a single line of code. Shopify offers its services on a monthly subscription basis, and by registering for one of the available plans, you will have access to one of the most intuitive interfaces in the world, designed with both the novice and professional marketer in mind.
Shopify offers you a 14-day 100% free trial to help you test their platform and decide if it's a perfect choice for your business or not. Besides, they have different subscription plans designed to meet the needs of each business, each offering its own unique set of features.
What really makes Shopify a first-rate choice for online stores is its user-friendly interface and the ease with which you can enable or disable many advanced features, including support for multiple currencies, multiple payment processors, inventory, and staff management.
While Shopify's feature set is unrivalled, the default template is one area where Shopify fails to outperform most of its competitors. The default website template made available to you, regardless of your membership plan, has all the basic functionality you will need to run a fully functional web store. Unfortunately, the default theme lacks customization, which, as discussed in the previous section, is crucial for building customer loyalty and authority in a specific niche.
Fortunately, Shopify, as a customer-focused platform, understands the importance of designing a site for any new or established brand and therefore offers support for integrating third-party themes. This means that as a marketer or business, you can install third-party designs on Shopify and give your online store a unique, modern, mobile and responsive appearance which not only appeals to your customers but also helps to improve your ongoing search engine optimization.
---
What Makes A Great Shopify Theme?
There are hundreds of web design agencies and developers dedicated to creating themes specifically for the Shopify platform. Most of them are good, given that you pay for important features that could be beneficial to you while adding customization and incorporating some advanced functionality to your online store. However, as a concerned entrepreneur, you will only want the best for your online store. So here's an overview of the essential features you should consider before you plan to invest your hard-earned money in a theme.
 1. A Great Modern Design
This is, without a doubt, the most crucial aspect of a great Shopify theme, as it is the first thing that will catch the attention of your potential customers after you decide to install it on your site. It is therefore essential for you to invest in a theme that could offer you and your visitors an aesthetically pleasing appearance coupled with an easy to navigate interface because the last thing you want is to make it difficult for your website visitors to navigate through the different products and categories on your shop.
Remember, the better your site looks and the easier it is to use for your visitors, the more they will appreciate your site, and the more likely they are to stay and make a purchase decision.
2. Speed
There aren't many things worse than a website that takes forever to load. In fact, according to Amazon, a second delay in loading any product page costs them nearly $1.6 billion in sales per year. Hopefully, this bewildering figure will help you understand the importance of web site performance. For all businesses and even bloggers, it is important to remember that no one wants to wait and that people today are all about instant gratification. It is, therefore, of utmost importance that you choose a Shopify theme that can make your online store fast and optimized to provide an optimal user experience on both desktop and mobile devices.
3. Pricing
In order to make money, you have to invest money – the fact that no one can dispute. But what's important is that you don't make unreasonable investments so you can preserve your ROI, regardless of the size of your business. Since we're talking about themes, as a concerned company, you won't want to pay for a Shopify theme that would result in a drop in your profits. Not all businesses have the same budget, especially when it comes to choosing the perfect design for their online business, but most businesses agree that they will want to invest in a Shopify theme like Ecom turbo which, despite being one of the most affordable themes, is jam-packed with great features designed to help boost business and make a great first impression on shoppers.
4. Support
Let's agree on the fact that not everyone is a programmer yet and that often, to make things work, especially on the Internet, you need programming skills.
If you are an experienced programmer or designer with basic coding skills, then fixing small bugs won't be a problem; however, the support is essential for people who are not as savvy.
So, what's the solution?
Well, as far as Shopify themes are concerned, if you invest in a theme like Ecom turbo that offers excellent after-sales service, then you're good to go. Unfortunately, that's not the case for all premium themes. There are many high-quality themes that will only allow you to access the documentation or the dedicated pre-filled FAQ website in the name of support. Therefore, do proper research before making your purchase decision.
---
What is eCom Turbo?
After you subscribe to a Shopify subscription plan, you'll be offered a number of pre-defined themes with basic customization to help you personalize your virtual space. These themes can be regarded as starter templates that are available to everyone free of charge, but they are not supposed to strengthen your brand image. The main problem with them is the fact that they are available to every user of Shopify (i.e., more than 100,000), many of whom cannot be considered serious businessmen in every sense of the word. Therefore, it will be appropriate to say that these Starter templates are intended for someone who is just starting out or exploring the vast world of e-commerce on a small scale; however, if you plan to grow your brand presence as a leading company in your niche by reaching out to all potential customers around the world, then you will certainly want to invest in a premium template.
Ecom Turbo is one of the few affordable Shopify themes that not only comes with an outstanding feature set but also offers unparalleled customer service coupled with lifelong future upgrades. If you're someone who really wants to increase sales and boost your business, then you'll definitely want to consider using this theme in your online store.
Not only does it offer business owners the ability to customize their virtual space without having to write a single line of code or fix an endless list of bugs and performance issues, but it also provides free access to some advanced features for which you would have to pay an extra $100-$200 per month.
In addition, this theme is optimized to improve both the performance and usability of the website, so any company planning to use it can be assured of a significant improvement in its overall conversion rate.
Ecom turbo is also a perfect choice for concerned businesses because of its unlimited customization options, which are well integrated into the theme's administration panel, giving a competitive edge over the competition. Unlike most other themes that require third-party apps to enhance the basic capabilities of your online store, Ecom turbo offers all the functionality needed to run a full-fledged e-commerce site without you having to pay any additional fees.
Click here to Visit Official Website
---
Who is Franklin Hatchett?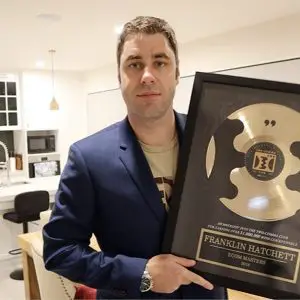 Franklin Hatchett is a prominent blogger, Internet marketing guru, and creator of the Ecom Turbo theme. He is very different from most people in his position as he is perfectly honest about not being able to help you become a millionaire overnight. He is aware that dropshipping is a complicated arena and that it is not something that suits everyone. That said, he created this theme as a way to help those who really want to succeed.
In addition to this theme, he is also the creator of eCom Elites and OnlineDimes, of which he is the main author. There are a lot of people who are interested in dropshipping, and Hatchett is determined to give them all the tools they need to do it right. If you have any knowledge of this industry, then you have probably heard of him, even if you have not had direct experience with it.
---
Essential Features of Ecom Turbo Theme
Despite being only available for $97, this Shopify theme is packed with so many great features that you'll regret your decision of not using it sooner and spending so much of your precious time searching for any other theme on the market.
Upsell and Cross-sell
You want to improve your sales; then, you will need ways to entice your customers to add more products to the shopping cart? Well, Ecom Turbo has got you covered!
Featuring up-selling and cross-selling features, that according to many experts, is the art of understanding your customers, this template will help you improve your overall sales and return on investment without requiring any upfront investment for retargeting or customer acquisition.
Upsell and cross-sell is a standard business practice widely used by small and large multinational companies. Let me explain this concept with the example of a restaurant. So, you're in a restaurant, and you order a pizza or a hamburger, and within a minute a waitress walks up to your table and ask if you'd be interested in other servings like fries or perhaps you'd like to upgrade your order for a couple of dollars more.
Do you think they offer these options at random? No, in fact, you'll notice that what they offer will change dramatically depending on what you ordered, because they know what their customer would want after placing a specific order. This is not something you can learn in a month or even a year. It requires an ongoing dedication to customer satisfaction and also a keen interest in knowing what customers expect.
Ecom turbo offers you exactly this functionality without you having to spend years understanding your customers. By activating this feature within your web store, Ecom turbo will automatically populate your customer's order page with closely related products available in your shop, improving your chances of making more money from each customer that you have.
Scarcity Timer
The scarcity timer or the fake timer – which it exactly is – empower you, through the science of psychology to manipulate the mindset of your prospective customers and get them to make their purchasing decision faster.
"When something is rare, it's alluring" – an undeniable fact!
Ecom Turbo, with its scarcity timer, invokes the psychology of scarcity amongst your visitors and helps you to gain more customers and sales. In case you didn't know it, the same technique is used daily by multinational brands like Amazon, booking, Jack Threads, and hundreds of others to make a few of their products look very popular. To create even more delusion, not only do these companies add a fake timer, but they also display a very limited number of stocks.
This makes visitors believe that a particular product is really popular, and if they don't act now, they will lose their chance to own it for good. So now they add the product to the cart, but it doesn't stop there. Now they have only a limited time to make their purchase, or they will lose this offer forever, which they obviously don't want and therefore make the purchase.
What this means for the company – a new customer, a new sell, more money and as a concerned business it should be your goal too.
Now, to offer you extended customizability, Ecom turbo gives you complete control over how you want your scarcity timer to look. You can customize the graphics, the text color, font size, fonts, etc.
Furthermore, you would be surprised to know that there is a premium extension available on the Shopify App Store that offers the same functionality but with less customizability and costs nearly US$ 10 per month.
Just do the math, and you'll know that the Ecom turbo theme pays for itself in just ten months (assuming you are already using this premium scarcity addon from Shopify store).
Sales Pop-Up
Yet another awesome feature to help improve your site's overall user interactivity; however, be aware that the notification this feature source to your website visitors isn't real. After enabling this option, you will have to define the product or products you would want to display in the notification. Once you have made your decision, you will be offered with settings to customize the overall look and feel of the notifications.
Remember, these are fake notifications and are interconnected to your active orders in any way. The main objective is to show your websites visited that your web store is super active with all new purchases going on in real life and that they can trust your brand for the fact that thousands of people are already shopping on your store every day.
Faster Page Load Time
Finally, the feature that makes Ecom turbo a truly perfect Shopify theme for every business need. If you are new to Internet marketing or search engine optimization, you may be surprised to learn that Google implements over 500 algorithmic updates per year to improve search results further and provide a better search experience to its users. In addition to the core algorithms, there are over 200 factors that Google considers on a page-by-page basis to decide whether or not it is relevant to be ranked in the search engine results pages, and page load time is one of the most crucial.
Now, despite being a robust e-commerce platform, Shopify's default templates are not optimized for greater performance and usually results in degraded SEO and conversion rates. However, you can instantly improve both of these factors by merely installing the Ecom Turbo theme, which, unlike most other free or premium themes, uses minified and compressed stylesheets, JavaScript, and icons to give your website a modern, professional look without compromising performance in the slightest.
In addition, because Ecom turbo is already bundled with many premium features, you won't need to install third-party extensions to enhance Shopify's core functionality further, saving you from loading additional style sheets, JavaScript, fonts, and icons that could affect the performance of your site results.
---
eCom Turbo Theme Pricing
Ecom turbo offers three subscription packages ensuring every company can benefit from its functionality and design.
The starter pack, which costs just $97, allows you to install and use this theme in any one Shopify store.
The $127 Pro Pack allows you to install this theme on up to three Shopify stores, while the $147 Pack grants you permission to use Ecom turbo on any number of Shopify stores without any restrictions.
In addition, each package comes with free lifetime future updates and customer support, along with access to a private Facebook community and detailed theme training videos to help you harness the true potential of Ecom turbo.
---
Final Verdict
Is It Worth It? Final Verdict
This is one of the best themes out there for Shopify. Built with Mobile and Tablet devices in mind whilst still looking stunning on desktop. It's one of the best-converting themes you can find out there and especially for the price, I must say it is definitely worth it.
Go ahead and try it on your store. You can always take advantage of the 30-day money-back guarantee in case you are not happy with this theme.
---
I hope you found this review useful and if you have any questions, please comment down below. I'll be more than happy to assist you.
Once again, thanks for reading my eCom Turbo Theme Review and I wish you the best of luck.
Hey, I am Mike and I am a full-time affiliate marketer! Nowadays there's a lot of people promoting guru courses and overall bad software products. I am absolutely tired of people pushing their overpriced and crappy products and courses out to everyone to take advantage of you. My mission is to review and call out bad products, software, and courses whilst recommending only the best there is! You can read a little more about my journey  here!