Savage Affiliates 2.0

Review

Franklin Hatchett launched the original Savage Affiliates course in 2017, and it turned out to be a huge hit. Franklin is a well-known figure in the affiliate marketing world, and he has made a lot of money with affiliate marketing. He has a channel on YouTube, and there is a lot of good information available for free on his YouTube channel.

Affiliate marketing keeps changing as various traffic platforms evolve. Affiliates need to keep up with the times in order to stay ahead in the game. Sensing this need, Franklin Hatchett has now launched Savage Affiliates 2.0. This new course focuses on the latest affiliate marketing techniques and how you should go about making money with affiliate marketing.

Is Savage Affiliates 2.0 a Scam? Is Franklin Hatchett a Scam Guru? Find out truth by reading the entire review!
What is Savage Affiliates 2.0?
The best aspect of this course is that it is aimed at both beginners and experienced affiliate marketing professionals. One of the distinguishing features of this course in comparison to other similar courses available on the market is that it helps beginners to build a solid foundation for their affiliate marketing business and create passive income streams that allow them to earn more than $10,000 per month.
As for the price, it currently sells for $197 or $297, which includes additional features. There is a total of 10 modules in this course, and it covers free and paid affiliate strategies in over 150 videos. The amount of information Franklin has gifted in this course is worth much more, and it offers incredible value at this price.
Few people are aware of this new course because it is not widely marketed. Most of the time, only people who regularly watch his free videos on YouTube or who are already on his list after buying one of his other courses are aware of this course. This course has everything you need to succeed in affiliate marketing.
Since there is a lot of information in this course, the course has been divided into ten distinct modules, each module covering an aspect of affiliate marketing. In this course, you will learn how to create several passive income streams that continue to generate money once you have successfully implemented them. You get this price at a very low price considering the value it contains. Franklin has not hesitated and offers free methods and paid strategies to help you build a solid foundation for your own affiliate marketing business.
---
What's Changed in Version 2?
You must be wondering what is new about this update. Franklin defines this course as the only affiliate marketing course you will ever need, and he is right.
The first difference you will notice in this version compared to the old one is that there are now more than 150 videos in the course, while the old one included only 100 videos. Franklin has also made it more user-friendly for beginners, which means that even if you have no prior experience in affiliate marketing, you can now start with the basics and build passive revenue streams without overly investing.
Another important change is that Frank has now gotten rid of all the obsolete marketing strategies, and this course is now focused on educating you to succeed. In the old version, there were videos on what affiliate marketing is and other similar things. However, most people are now aware of affiliate marketing and do not need any dedicated videos to define it for them.
This course is now more focused on choosing the right affiliate products for promotion and making money.
In the previous version, module 2 focused on finding products to promote, while in this version, it is about building your own website that is a WordPress blog. There are a total of 17 videos that show you the whole process. Module 3 of the old course focused on website development, but now it is e-mail marketing training. The old version also contained this module, but the current version has much more content.
There is a module on ClickBank, and module 5 contains more than 50 videos on how to make money with Clickfunnels. These platforms were also covered in the previous version, but now the content has evolved, and there is much more information.
Although there are some similarities in the rest of the modules, Franklin has now redesigned all content for 2019, including free training as well as paid methods and changes in search engine optimization techniques.
Another change is the introduction of a Super diet in addition to the Standard diet. All members of Version 1 have already benefited from a grandfather clause in the Super Plan.
The Super plan costs an additional $100. It includes five unique add-ons which are:
Clickfunnels Academy – Step-By-Step Course
Affiliate Funnel – Done for You
Done for Your – Clickfunnels Sales Funnel
Advanced Techniques to Make Money with Launch Jacking
Course on How to Make Money with Web Hosting
---
Who is Franklin Hatchett?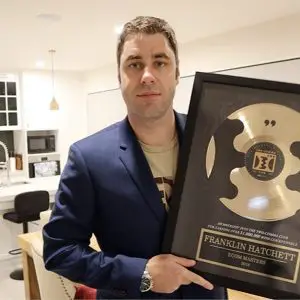 If you are completely new to the world of affiliate marketing, you probably are not familiar with this guy, but folks who know the first thing about affiliate marketing do. He is a successful affiliate marketer and has made a lot of money through several online ventures. Franklin describes himself as a curious person who was always interested in making money. He started his first online business when he was just a teenager.
At first, he created websites and made money by advertising them after ranking them on search engine results pages. However, he wanted more, and then he started with affiliate marketing. He was very successful, but it took a lot of hard work and dedication.
He also has a YouTube channel where he shares a lot of valuable information with his audience for free. If you are interested in keeping yourself updated with the latest marketing trends, then you will definitely find his channel interesting. He shares a lot of valuable information about dropshipping and how you can make a lot of money with it.
Simply put, Franklin Hatchett is an affiliate marketing guru who doesn't make his money by selling information on how to make money. He is an affiliate marketing specialist in the market who has done everything and now helps others succeed with affiliate marketing.
---
How Is Savage Affiliates 2.0 Structure?
The complete Savage affiliates 2.0 Internet marketing course is divided into ten modules with each being subdivided into various videos, lectures, each tackling one a specific subtopic. Apart from these ten core modules, there is also an introduction as well as a bonus module.
Following are the modules available in this course:
Introduction module: affiliate marketing introduction
Module 1: Affiliate Products to Promote
Module 2: Building Your Website Asset
Module 3: Email Marketing & Funnels
Module 4: ClickBank Affiliate Marketing
Module 5: ClickFunnels Affiliate Marketing (Part 1 and 2)
Module 6: Amazon Affiliate Marketing
Module 7: SEO Google Traffic Training
Module 8: Free Traffic Training
Module 9: Paid Traffic Training
Module 10: Launch Jacking & Web Hosting
Bonus Module: Extra Free Gifts
It is highly recommended that you follow top to bottom approach while going through the course so you don't get confused with certain terminology or methods which you might have missed you did not follow the previous model.
A simple glimpse of the available modules will give you the brief idea that this whole course is all about affiliate marketing and different strategies implementing which you will be able to drive free, organic, and super targeted traffic to your niche or authority website. You will be walked through different affiliate marketing programs and methods such as ClickBank, Amazon, e-mail to help you diversify your online marketing journey so you can have a better chance at generating revenue.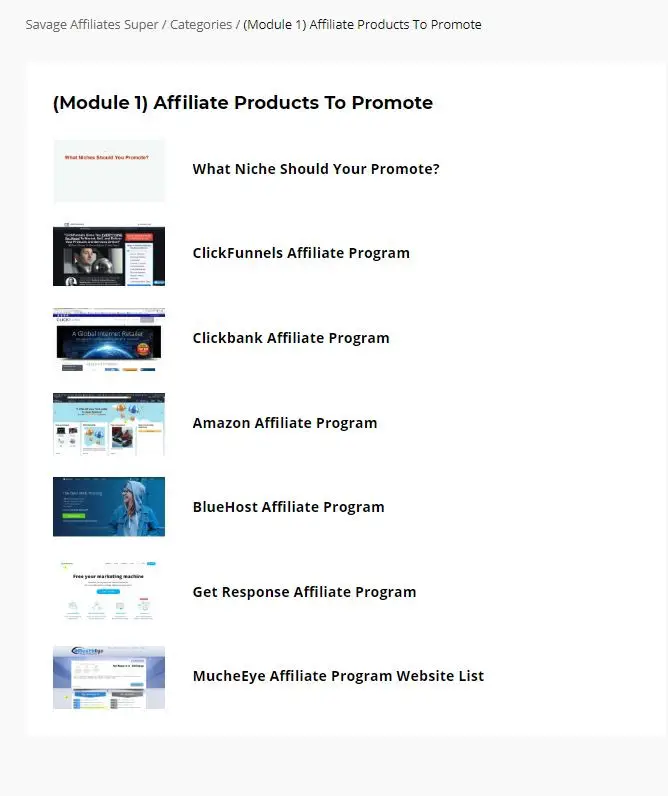 MODULE 1: Introduction
In this section, you will be introduced to distinct concepts integral for succeeding on the Internet as an online marketer, and that includes sales funnels, affiliate marketing, and understanding the ins and outs of both free as well as paid website traffic.
In this section, Frank will also show you some screenshots from any of his successful students. This is screenshots will consist of their learning, their website traffic, etc.
MODULE 2: Researching for Best Affiliate Products to Promote
This section is all about helping you understand what goes into researching and choosing the best possible affiliate programs on various different platforms so you can generate maximum revenue with minimal effort. Moreover, Frank also discusses certain affiliate programs from which he had a big success in the past, and some of them are still making him over thousands of dollars every month following the exact strategy that he discusses later on in the following modules.
This section is all about helping you understand what goes into researching and choosing the best possible affiliate programs on various different platforms so you can generate maximum revenue with minimal effort. Moreover, Frank also discusses certain affiliate programs from which he had a big success in the past, and some of them are still making him over thousands of dollars every month following the exact strategy that he discusses later on in the following modules.
MODULE 3: Setting Up Your Website
So now that you have a proper understanding of the process to research profitable products for your affiliate marketing campaign, it's time to set up your website so you can promote it and generate revenue online.
The website is undeniably the most important factor of any marketing campaign as it's the only way a marketer can connect with the audience and promote the concerned product in such a way that it persuades the audience to make a purchase. Though there are some other ways to (like publishing on higher authority social platforms like medium, WordPress, etc.), but with the website, you are in complete control as you don't have to fear that your content will ever be removed and thus you can continue generating passive revenue.
Understanding the importance of a website, in this section, Frank walks you through the step-by-step process of starting a moneymaking website. Frank discusses everything, including choosing a proper domain name, selecting a high-performance web hosting service, and finally setting up the world's most popular content management system – WordPress on that web host.
Note: If you already have a website, you might feel that escaping this module will save your time, but don't do it. Though you might have a website, you would not want to miss any extra step discussed in the module that would be a definite requirement for creating a moneymaking website.
MODULE 4: Email Marketing
Since the dawn of Internet marketing, e-mail marketing has stood as a premier marketing technique owing to the fact it gives you direct access to someone's e-mail address, thus allowing you to promote any affiliate product or service directly to your subscribers and persuade them to make the purchase.
In this e-mail marketing module, Frank discusses everything you would ever want to know about this technique. Moreover, he also discusses the concept of sales funnels and how implementing it can dramatically improve your chances of locking in a customer.
Later in the module, you will be presented with a detailed video tutorial showing you the exact steps to set up e-mail lists to achieve faster success. In the following videos, you will be introduced to a premier e-mail marketing platform called GetResponse and the essential steps required to set it up properly with your website and click funnels.
MODULE 5: Affiliate Marketing with Best Possible Programs
The main idea behind any affiliate marketing endeavour is promoting programs and services that has market demand and can offer you with maximum affiliate percentage.
In this module, which is divided into two parts, Frank will introduce you to top-performing affiliate programs, will explain what every program is all about, what type of audience you can target, and definite steps you will have to take in order to succeed with each of them.
Unlike most other courses out there where course instructor just gives you an overview of what affiliate marketing is, and types of program that you can promote without giving you any detailed information on how to actually promote it; Frank discusses every promotional method imaginable. Not only he talks about creating conversion-optimized articles and setting up sales funnels but also gives you the exact method using which you can start promoting your affiliate products right in front of your audience. The amount of information Frank shares with you in this section is absolutely mind-bending. To give you a basic idea, consider this fact that this module has over 50 videos, and it has everything you need to know about generating money with your website, and sales funnel online.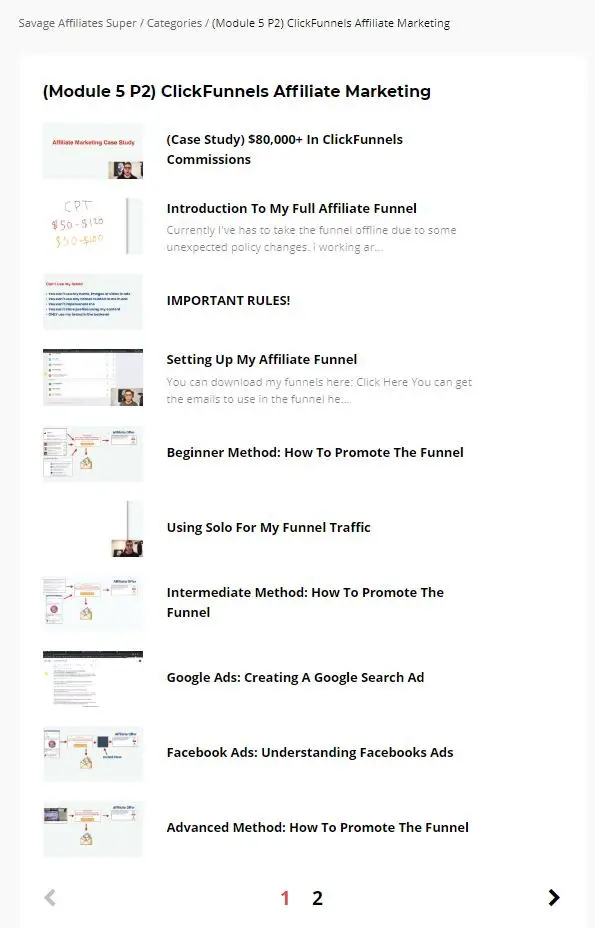 Module 6: Affiliate Marketing with Best Possible Programs Part - 2
This section, now called "Clickfunnels Affiliate Marketing," consists of 50 videos dedicated to showing you the exact affiliate funnel that Franklin uses in its daily marketing campaigns and how you can implement them by simply copying the steps and creating your own account on the platform specified in the videos.
Remember that this section is only available to buyers who have invested in the Savage affiliates 2 "super plan." Later in the videos, Franklin explains how you can properly use solo ads to generate targeted laser traffic to your pages, create optimized ads on Google and harness the power of the second most used search engine in the world – YouTube to strengthen your brand presence and promote your affiliate products.
This second part of the module is massive, but fortunately, unlike most other affiliate marketing courses, it is not loaded with redundant information. Rather, each video is dedicated to educating you about something different, something unique, and something so powerful that you can implement the technique discussed right away to notice a significant improvement in your existing business. Overall, this module consists of 45 videos, and what is discussed in this module is something you will rarely find in any other course on the Internet.
Module 6: Amazon Affiliate Marketing
Amazon, for many online shopping connoisseurs, is like a center of the universe where they can spend their money on cabbage to toilet paper. However, it is not only a paradise for online shoppers with a selection of over 100 million products but also the world's largest database of affiliate marketing niches. Amazon allows affiliate marketers around the world to promote literally every product available on their platform.
By becoming an Amazon affiliate partner, marketers not only can benefit from Amazon's trusted and customer-centric brand authority but can also take advantage of the 24-hour sticky cookie, meaning that within 24 hours if your referred person makes a purchase, regardless of the amount they spend on the platform or the type of item they purchase, you are eligible for an affiliate commission. This is what really makes Amazon a superior choice for your affiliate marketing journey than other competitors on the Internet. All you have to do is make sure that visitors to your website click on an Amazon affiliate link, and no matter what they buy on Amazon within 24 hours, whether it's a refrigerator, a TV, or both, you will receive a commission in all three cases.
Like all the other modules in Savage affiliate 2, franklin guides you through all the essential steps necessary to properly exploit the opportunities to make money on Amazon. You will have access to detailed and easy-to-understand steps on how to create an account on this platform, check your websites and ensure that you comply with all the terms and conditions of the Amazon affiliate program, which by the way, are critical to prevent any future bans. Later, you will see real case studies where franklin will explain how the websites discussed only make money through the Amazon affiliate program.
This section also helps you establish the essential basics for choosing the right buyer keywords and choose highly converting, profitable, and less competitive products to promote. There are also some dedicated videos to help you decide whether to create authority or a niche website.
Module 7: SEO Google Traffic Training
This section, which aims to educate 100% of functional and implementable search engine optimization tactics, proves that Savage affiliate 2 is the only complete affiliate marketing course you will ever have to follow. Unlike most other courses that market you their SEO course, Savage Affiliate comes with an in-depth and easy to follow SEO module comprised of 29 videos covering the ins and outs of both off-page and over-page SEO.
If you have been following this review since the very beginning, you will notice that this course focuses mainly on paid traffic using multiple channels such as YouTube, Google ads, social media advertising, etc. to attract targeted laser visitors to your affiliate pages.
Now that you have already invested nearly US$300 in this one course, you may not be ready to invest another hundred if not thousands of dollars to generate traffic to your site. Well, fortunately, by following this section, you will learn the tips and strategies necessary to generate organic traffic, which, according to many experts, is the most converting type of traffic. The reason for its high conversion rate is due to the fact that people visit your website through the search engine. This essentially means that these visitors were looking for some answers or comments, and when they searched for the query on Google, they found your site and decided on their own to visit, unlike ads that most people click incidentally.
In addition, this complete module is divided into 19 videos, each covering a specific section that is crucial for both on-page and off-page referencing. The more you start by introducing yourself to Google and how people use it to search for security and how you, as a marketer, can benefit from it. The second video will familiarize you with keyword tracking and the different web tools and applications you can use to do the same.
You will also be educated on the speed of your website and how the performance of your website improves your site's ranking in search engine results pages. Then, from the 5th to the 8th video, you will learn various techniques and strategies to improve your SEO efforts on the page further. From video 9 to 18, you will be familiar with the different types of backlinks and the steps required to create them. Finally, in the last video, franklin will help you understand the need to diversify your anchor text profile. A text profile with a diversified anchor and a natural look are required to avoid any impact from Google's algorithmic updates, which often results in a loss of 50 to 100% of organic traffic.
Module 8: Free Traffic Training
Free website traffic – give me one reason why anyone wouldn't love to generate revenue with free website traffic. There isn't any reason, right?
If you are a newbie or even an experienced marketer with years of experience under his belt, there may sometimes be when you might be on a tight budget and may not have sufficient funds necessary for paid traffic. It might also be that you have had bad luck with paid ads and want to make no more investment.
In the previous module where franklin discusses the ins and outs of search engine optimization, necessary to generate free, laser targeted website visitors directly from Google; in this module, which consists of 18 videos franklin discusses multiple mediums employing which you can generate targeted visitors to your website. In this module, franklin walks you through various traffic sources with the potential of generating hundreds, if not thousands of daily visitors, for free. You will be introduced to niche-specific community forums, question and answer websites, and blogs. But, apart from them, this module is mainly focused on one single video sharing platform, which many don't know is the world's second most used search engine. I'm talking about YouTube.
You will learn various strategies essential for defining your goals, creating niche-specific videos using various different tools and free software, harnessing the power of Vid IQ to find easy to rank keywords, and some implementable tips to help you think out-of-the-box.
Overall, the objective of this module is to help you build up your own community on YouTube and harness the power of its massive audience to drive free traffic, sales, and revenue.
Module 9: Paid Traffic Training
Are you one of those who believe the time is money and want to achieve instant results after implementing all your learned strategies. Well, if that's the case, this module that gives you access to 19 detailed videos is meant for you. In this module, you will learn everything you will ever need to know about Facebook ads, Google ads, and how to use both of these traffic sources to run your online affiliate marketing campaigns successfully.
Like many other modules, the paid traffic training module is also divided into two different sections. The first section is dedicated to Facebook ads, while the second one is dedicated to Google ads.
Video one gives you an overview of what paid traffic is and what you are going to learn in this module. Then in the second video, franklin discusses what makes an ideal buyer and different platforms where you can find them. As a marketer, it's essential for you to understand that with just website traffic, you cannot generate revenue. You need visitors who are willing to spend money on the products that you are promoting on your website, and for that, you need to understand what they truly want.
From the 3rd to 10th video, you will learn the ins and outs of Facebook advertisement. The videos will include steps essential for creating brand page, pixel installation, understanding different types of campaigns, creating your own customized ads, setting up your budget for advertisement, making out the most from the ads data and finally filtering out the audience to target only those who you believe might be most interested in your affiliate products.
From 11th to 19th video, you will get detailed, step-by-step videos targeted at educating you about Google apps. You will learn how to install Google pixel, create campaigns, create YouTube advertisements, understand the importance of YouTube and placement, finding your audience, and finally optimizing and scaling your paid ads campaign to build up a steady revenue source.
Module 10: Launch Jacking & Web Hosting
The last module, which will only be accessible to you if you choose to subscribe to the "super pack," takes you to the depth of the advanced marketing technique called launch jacking.
In this module, franklin explains what launch jacking is and how, as a marketer, you can take advantage of the launch of the new product to generate significant revenue. The best thing about launch flight is the fact that any new product from an established marketer or developer always creates a buzz in the community and if you manage to tap into the mass – interested public use potentially to be able to collect a lot of money on the day of product launch.
The second section of this module deals with another affiliate marketing opportunity, which is the promotion of a web hosting provider. If you have purchased this course, then either you already have a website, or you are considering creating a new website, and for that, you will need a web hosting company. Franklin, in this module, recommends that you create a review guide where you explain to why you chose your web hosting company, how's been your experience, performance stats, and share it with the community. One of the most converting web hosting affiliate programs in the world is Bluehost, which is also one of the few hosting service providers recommended by the official WordPress website.
Savage Affiliates Bonus
This module is just a bonus module. There's a couple of videos there on the Viking blog training. Instagram excellence, getting funnels, and mini Email Authority Course. This is nothing that special but, it's included and might help you out with some of the information here.
---
Pricing Plan
If you look at the ROI, the volume of information you get to learn from this course, and then compare the two to all the other Internet marketing courses on the Internet, you will be tempted to ask yourself why Franklin Hatchett has priced his course so low?
The standard package that will cost you $197 gives you access to all modules except those included in the super pack which includes the following:
Full Step-By-Step Click Funnels Affiliate Academy!
My Secret Done for You Affiliate Marketing Funnel!
Multiple Click Funnels Premade Funnels!
Launch Jacking Affiliate Method Blueprint
Web Hosting Affiliate Method Blueprint
In addition, regardless of the plan, you choose to subscribe to, you will have lifetime and instant access to all course materials and future updates. In addition, you will also have access to a private Facebook community to meet experienced and novice affiliate marketers.
The second plan called "SUPER" will cost you $297 and will give you access to the five additional super pack modules listed above.
If you want to subscribe to the super pack, but unfortunately, due to the financial constraints, you can't do it, don't feel discouraged because you always have the option to switch to the super plan later.
---
Savage Affiliates Video Reviews
You can watch other videos reviewing Savage Affiliates below! If you want a final verdict on it, and still have some questions or concerns scroll down to get the final verdict
Final Verdict
Is It Worth It? Final Verdict
You must always keep in mind that not every marketing technique is a get rich quick scheme and that the only way to generate a sustainable income online is always to give your 100% as well as to learn and adapt from your mistakes.
Savage affiliate 2.0 is just a course that will surely help you understand everything you need to know about affiliate marketing and will also teach you various essential strategies to succeed in it. Unfortunately, unless you put your knowledge to work, you will not be able to generate income, and there are no jobs without risk. Fortunately, since franklin teaches you each strategy step by step, you won't have to worry about failing.
Overall, if you think you are done with your tedious day-to-day job where you never had any freedom to say or grow and are now devoted to building your own sustainable online revenue stream, then this course is for you.
Savage Affiliates by Franklin Hatchett, is HANDS down one of the most up to date information-packed course and the most affordable course out there.
---
I hope you found this review useful and if you have any questions, please comment down below. I'll be more than happy to assist you.
Once again, thanks for reading my Savage Affiliates 2.0 Review and I wish you the best of luck. You can check out my other review on Franklin Hatchett's Savage Affiliates Course
Hey, I am Mike and I am a full-time affiliate marketer! Nowadays there's a lot of people promoting guru courses and overall bad software products. I am absolutely tired of people pushing their overpriced and crappy products and courses out to everyone to take advantage of you. My mission is to review and call out bad products, software, and courses whilst recommending only the best there is! You can read a little more about my journey  here!